Pitts & Spits Maverick Pellet Grills - BUILT IN USA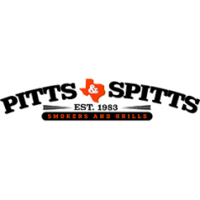 Founded in 1983, and one of the first companies to make offset smokers and stick burners accessible to backyard BBQ gurus, Texas-based Pitts & Spitts knows a thing or two about brand power.
"Best Looking. Best Cooking" is the Pitts & Spitts mantra and their sturdy product line, handcrafted in the United States, exudes an unmistakable style and quality that sets it apart from competitors.
So what happens when a hot, new trend rolls into town with the potential to disrupt your core business? As I recently wrote about, wood pellet grills are creating BBQ rock stars thanks to removing many of the variables involved with traditional smokers and grills - the same ones Pitts & Spitts built its storied brand upon.
This begs the question: Can Pitts & Spitts risk tarnishing its reputation by expanding into the wood pellet grill market?
It's a formidable challenge Pitts & Spitts owner Ryan Zboril pondered before everything clicked into place.
"When we started developing our pellet grill line five years ago, it took a little time to become comfortable with it and wrap my head around it," said Zboril. "But in many ways, pellet smokers have become an almost evangelical vehicle for us. Everyone wants to join in on the fun with smoking and all we're really doing is packaging it in a way that makes it more accessible."
Pitts & Spitts pellet grills are handcrafted in Texas.
Zboril maintains that because wood pellet grills burn real wood, produce great flavor and remove some barriers out of other smoking techniques, it's a lot more consumer friendly.
"Many people are intimidated by the act of smoking – if we can simplify that process for them and provide a standardized platform to do that, it makes a ton of sense."
From a company and branding perspective, Zboril believes his company's expansion into wood pellet grills is a natural progression. In essence, the wood pellet technology and innovation was added to its existing smokers. The barrels and chambers on Pitts & Spitts pellet grills utilize the same steel and design, in addition to the same welders, used for making their offset smokers.
"It made so much sense for us," said Zboril.
The "carryovers" from their offset smokers make all the difference. Slide out shelfs and roll top lids might sound like small details, but Zboril said customers love these amenities and it makes a big difference when stacked up next to competitors.
As for the tech that produces the smoke, Pitts & Spitts sampled and tested a lot of competitors, found what they liked and didn't like, and over time learned that the real magic of wood pellet smokers lies in the controller itself.
"We found talent here in the U.S. that has great experience designing and installing these kinds of controllers," said Zboril. "We gave them a list of parameters of what we wanted to achieve and they tuned it specifically for our grills. We think this is a big reason why our pellet grills perform so well."
One of these parameters involved creating smoke throughout the entire journey of the cooking process. Some popular brands of wood pellet smokers are able to cook at a very low temp but only produce a puff of smoke every 10-15 minutes.
"We want an even, blue smoke throughout that entire process," said Zboril. "They were able to achieve that for us."
Pitts & Spitts sells through their web site and specialty BBQ stores which can be found within each state or geographic region of the U.S. When the specialty BBQ stores see the value of Pitts & Spitts products, they become loyal brand advocates, according to Zboril.
"We don't really look like anyone else and we're the only Texas-based pellet grill manufacturer."
In addition to turning retail partners into advocates, Zboril said social media also helps, whether encouraging customers to become active brand ambassadors or simply interacting with them on Facebook, Instagram Twitter and other social channels.
"So much of our momentum over the past 12-18 months has been very organic and the snowball is moving faster."